2017
International Art Fair of Málaga. From June 30 – July 2, where Victoria, as OFAA's President and representative will have a physical stand on the Fair.

2016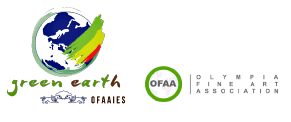 Olympia Fine Art Association International Exhibition & Symposium

All artists from OLYMPIA FINE ART ASSOCIATION (OFAA) are invited to participate in the International exhibition & symposium Green eARTh- OFAIES which will be held from 16th to 22nd of January 2016 at Srimanta Sankaradeva Kalakshetra, Panjabari, Guwahati. Organised by Olympia Fine Arts Association, (OFAA) Finland, in association with Srimanta Sankardeva Kalakshetra supported by Department of Art and Cultural Affairs, Govt. of Assam.
Idea, Concept and Organization from OFAA-Member
Dr. Utpal Barua
Professor & Head Department. of Design
Indian Institute of Technology Guwahati


2015

EXHIBITION:
2nd Valencian Festival of Arts, "Ciutat Vella Oberta" (CV0 2015) (Open Old City). The Festival take place in several art spaces in Valencia, where Victoria Cano`s Art studio will be one of these open spaces, where all participating OFAA-members are invited to participate with their Artworks. The Festival take place the following days: 12,13,14 and 15 of November, 2015.

VIDEO
PHOTOS OF CLOSING CEREMONY (facebook)


2012

International Flag Art Exhibition Beirut, May 2012
Unesco Beirut Office, Solidere, Meadows and OFAA has organized this event on the occasion of the ''World Day for Cultural Diversity for Dialogue and Development''. 40 international renowned artists are representing 40 countries. The innovative concept aims in archieving the goals of the UNESCO and OFAA proclaiming through an artistic event that reverses the process of dialogue through arts by displaying the artworks on a prominent public venue at the Beirut waterfront, in form of large banners.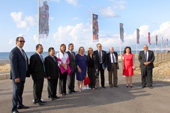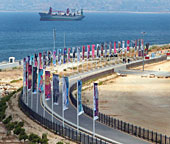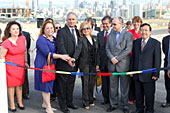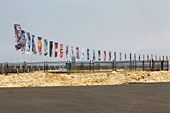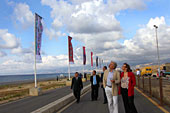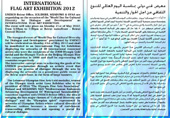 arab.

Here are a link about the exhibition:
http://www.lebtivity.com/event/international-flag-art-exhibition-2012


***

In 2 words our opening was exceptional, our Beirut OFAA event was the creme of the events of the day.

We had all the media except for 2 who were late to arrive, we had 8 ambassadors and cultural attaches, as only 16 ambassadors reside in Lebanon 19 are in neighboring countries and the rest no embassies.

Chile, Cyprus, Indonesia, UK, Switzerland, USA, Spain, were present, Greece, Canada, China will come during the week to take pictures with their artist's works and the left will follow.

Today I had 2 interviews, tomorrow 2 TVs, after tomorrow radio & TV and once UNESCO & Solidere gives me the media coverage and press clippings I will post on the new website that I am making for the Int. Flag Art Lebanon and all pics will be uploaded for the artists to get all what they need for their media coverage and needs. Lena K.


OFAA exhibitions are under negotiations for Mexico Olympic City, Beirut, Korea, Abu Dhabi and others.


2011

TRAVELLING ART
> Poster | > Poster-Artists
Políptico de Fotografia internacional en el metro de Valencia

Inauguración: 15 de septiembre a las 20 horas
Plaza de los Pinazo n°1. 46004 Valencia

***

OFAA Jakarta Exhibition – Indonesia : »RECONSIDERING EARTH«
> Poster |

Friday, July 8 2011, 18.30 p.m. / North Art Space, Pasar Seni Ancol / Officiated by :
Dr. Ing. H. Fauzi Bowo

A collaboration of »North Art Space« and »Olympia Fine Arts Association«
Ancol Dreamland Jakarta, Indonesia
Duration of exhibition : 8th July until 8th August 2011
35 artist from 22 countries participated


Pictures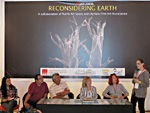 1)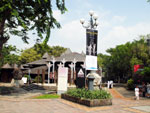 2)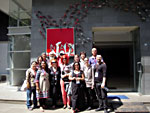 3)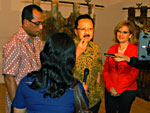 4)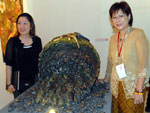 5)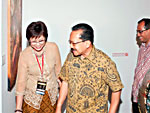 6)
1) Pressconference 2) NAS Gallery outside, in ANCOL Dreamland 3) Artists in front of NAS
4) Budi Karya Sumadi (President Director of PT. Pembangunan Jaya Ancol, Tbk.) –
Dr. Ing. H. Fauzi Bowo, Governor of Jakarta (mi) – Lena Kelekian (ri)
5) unknown (le) – Neneng Ferrier and her work
6) Neneng Ferrier – Dr. Ing. H. Fauzi Bowo – Budi Karya Sumadi


Press

Jakarta Post / Picture
Articles / PDF
Release-OFAA-English / PDF


Presslinks
The following links are from the Indonesian press for our exhibition »Reconsidering Earth«.

http://www.tubasmedia.com/berita/ancol-gelar-pameran-seni-bertaraf-internasional/
http://travel.okezone.com/read/2011/07/08/407/477477/ancol-gelar-pameran-seni-rupa-reconsidering-earth

***

The third annual meeting of OFAA in Venice on June 6th

Pictures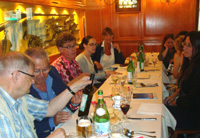 1)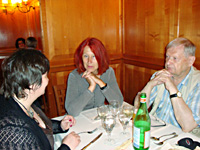 2)
1) Artists at Lunch 2) Hertha Miessner, Paul Tiililä


Meeting in Lausanne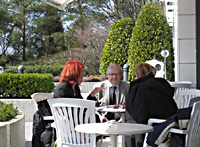 1)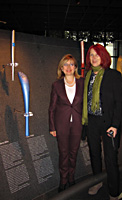 2)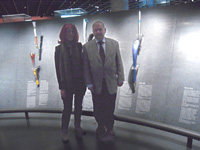 3)
1) Hertha Miessner, Paul Tiililä 2) Lena Kelekian, H. Miessner 3) H. Miessner, P. Tiililä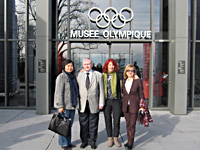 4)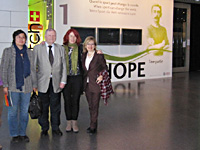 5)
4) K. Feng, P. Tiililä, H. Miessner, L. Kelekian 5) K. Feng, P. Tiililä, H. Miessner, L. Kelekian


2010

OFAA Exhibition in Sarajevo & Banja Luka / Bosnia & Herzegovina

25 OFAA artists participated in two successful exhibitions one in Sarajevo and the other in Banja Luka that took place in the presence of 18 OFAA artists in Bosnia & Herzegovina the winter Olympic Country from June 4—8, 2010.

The exhibition in Sarajevo was under the auspices of the Minister of Defense Mr. Celmo Cikotic and in the presence of the Mayor of Sarajevo from 3—5 June and then the whole group of artists moved to the city of Banja Luka where the second exhibition took place under the patronage of the Mayor of Banja Luka Mr. Dragoljub Davidovic and also in the presence of several athletes who were Olympic gold medalists from the city. The OFAA artists have one of their artworks in the Olympic Sarajevo museum and another artwork in the Banse Kivor Museum of the Municipal palace in Banja Luka in permanent display.


2009

100 Excellent Artists Exhibition in Penang / Malaysia

Art International; Penang 2009 on the occasion of the 1st annivarsary of the UNESCO listing of Georgetown, Penang as a world heritage site. Theme: Art, Life and Vision.

20 OFAA artists participated in this exhibition in Penang / Malaysia.


2008

Olympic Fine Arts Exhibition in Beijing / China

The main event where OFAA was conceived after several meetings in Venezia in June 2009



TOP